Recipe for Hanukkah Cupcake Menorah print





This edible menorah should not take the place of lighting a real Hanukkah Menorah, but it is fun for kids to make, light and then eat and fun to use as a centerpiece for a Hanukkah party.


1. For each Cupcake Menorah you want, make 9 cupcakes using a simple cake mix.
2. Frost each cupcake.
3. Use aluminum foil to create a boat large enough to hold 9 cupcakes in a row.
4. Line 8 cupcakes in a row. Raise one cupcake (the Shamash) higher than the rest by placing it on top of some cookies.
5. Insert a candle into the center of each of the 9 cupcakes.


Recipe for Hanukkah Candy Dreidel


Children will love to make their own edible dreidels.

1. Thread the toothpick through the marshmallow.
2. Add a Hershey's chocolate kiss to the end.
3. Spin and eat!
*A small piece from a licorice string can be used to make this totally edible and eliminate any hazards from the toothpick for little children.
Hanukkah Bimuelos or Loukoumades (Fried Honey Puffs) Recipe
Fried honey puffs are a traditional

Hanukkah

food for Sephardic Jews from the Mediterranean region, particularly Spain, Greece, and Turkey. They are so good, you will want to make them year-round.

Honey

puffs are best eaten as soon as they are made. This is a

yeast bread

, so plan ahead for rising time.
Prep Time:

10 minutes
Cook Time:

15 minutes
Total Time:

25 minutes
Ingredients:
Batter:

1 packet (2-1/4 teaspoons) active dry yeast

1 cup warm (105 to 115 degrees F.) water, divided use

1/2 teaspoon sugar

1 large egg

2 cups all-purpose white flour, preferably unbleached

1/4 teaspoon salt

.

Honey Syrup:

1 cup sugar

3/4 cup cold water

1/2 cup honey

1 tablespoon lemon juice

.

For Frying and Garnish:

Vegetable oil

Ground cinnamon
Preparation:
For the batter, mix together the
yeas
t, 1/2 cup of the warm water, and the sugar in a medium-sized bowl. Let the yeast mixture rest for about 5 minutes, or until it is foamy. Stir in the remaining batter ingredients (including the remaining 1/2 cup water) until smooth. The batter should be very loose and sticky. Cover the bowl loosely with plastic wrap and let the batter rise for 1 hour. (If necessary, the batter can be stirred down at this point and allowed to rise for another 30 minutes.)

While the batter is rising, prepare the
honey
syrup. Mix together all the ingredients in a 2-quart or similar saucepan and slowly bring to a boil over medium-high heat, stirring only until the sugar dissolves. Lower the heat slightly and boil the syrup, uncovered and undisturbed, for 5 minutes. Remove from the heat and set aside to cool to room temperature.

When the batter has risen, stir it down. Put enough oil into a large saucepan or a wok so that it is about 1-1/2 inches deep. Heat the oil until it is very hot, about 375 degrees F. Dip a teaspoon into the oil, and then use the spoon to scoop up a small portion of the batter. Gently drop the batter into the oil. (Keep your opposite hand moistened, in case you need to nudge the batter off the spoon. The batter will not stick to wet hands.) The dollop of batter will quickly puff up to almost twice its original size. Make more puffs in the same manner, but do not crowd the pan. Fry the puffs, turning them occasionally with a slotted spoon, until they are browned on all sides and very crisp.

Drain them briefly on paper towels or on the rack that attaches to some woks. Then drop 1 or 2 at a time into the cooled syrup (see Note). Use a different spoon or tongs (so the syrup will not get oily) to turn the hot puffs in the syrup until they become completely coated with it. Lift the puffs up, and let the excess syrup drain off. Put the puffs on a large plate. Repeat the frying and dipping process until all the batter is used. Then sprinkle the puffs generously with
cinnamon
. For best taste and texture, serve them as soon as possible.

Note: If desired, the
honey
puffs may be fried in advance, and coated with hot syrup just before serving. Some Sephardic cooks prefer to stir about 1 teaspoon
cinnamon
into the syrup, and then let each guest pour a bit of syrup over his or her own serving of puffs. In some households, purchased pancake syrup is used. Another easy alternative is 1 cup
honey
mixed with 1/4 to 1/3 cup water, heated just until blended and hot. Use while warm to drizzle over the puffs.

Yield: about 36 honey puffs
Cut-Out Decorated Hanukkah Cookies (Dairy or Parve)
By
See More About:
Decorated Cut-Out Hanukkah Cookies
Giora Shimoni
Decorate your Cut-Out Holiday Shape Cookies this year! This easy-to-make dough can be rolled out immediately (no need to chill it) and cut into your favorite holiday shapes. Margarine can be used instead of butter for parve cookies. Use non-stick cooking spray and sanding sugar to make colorful, fun designs. Happy Hanukkah!
Prep Time:
20 minutes
Cook Time:
8 minutes
Total Time:
28 minutes
Ingredients:
1 cup (200 grams) butter or pareve margarine, room temperature
1 1/4 cup sugar
2 eggs
1 teaspoon vanilla
2 teaspoons baking powder
3 cups all-purpose flour
non-stick cooking spray
sanding sugar in various bright colors
Preparation:
1. Preheat the oven to 400 degrees Fahrenheit.
2. Mix margarine and sugar until smooth.
3. Add in eggs and vanilla.
4. In a separate bowl, mix flour with baking powder.
5. Slowly add flour mixture to dough until just blended.
6. Divide dough into 2 balls. Do not refrigerate the dough.
7. Flour rolling pin, rolling surface and cookie cutters.
8. Roll out dough until 1/8 inch thick. Cut into shapes. Use a spatula to place cut-out shapes onto an ungreased cookie sheet. 9. Continue rolling and cutting cookies until the dough all the dough is used. Re-flour surface, rolling pin and cookie cutters as needed.
10. To decorate the cookies, follow a suggestion made by Susie Fishbein in her book
Kosher by Design - Kids in the Kitchen
. Spray the tops of the cookies with non-stick cooking spray. Place a spatula or other kitchen tool with interesting lines or holes on top of the sprayed cookie. Sprinkle with sanding sugar. Carefully lift spatula.
11. Bake at 400 degrees Fahrenheit for 6-8 minutes or until lightly browned.
Pumpkin Lasagna
Total Time:

1 hr 25 min

Prep

20 min

Inactive

15 min

Cook

50 min
Pumpkin LasagnaRecipe courtesy of Robert Irvine for Food Network Magazine
Ingredients
1 cup pumpkin puree

1 1/2 tablespoons extra-virgin olive oil

1 medium onion, chopped

4 to 6 cloves garlic, sliced

1 pound spicy Italian sausage, casings removed

1/2 cup red wine

1 28-ounce can tomato sauce

1/4 cup chopped fresh basil

1/4 cup chopped fresh parsley

1/2 teaspoon dried oregano

Kosher salt and freshly ground pepper

1 16-ounce box lasagna noodles

1 large egg

2 1/2 cups ricotta cheese

2 cups shredded mozzarella cheese

1/2 cup shredded romano cheese

1 large zucchini, very thinly sliced
Directions
Preheat the oven to 350 degrees. Place the pumpkin puree in a fine sieve over a bowl; set aside to drain while you make the sauce.

Heat 1 tablespoon olive oil in a medium pot over medium heat. Add the onion and saute until translucent, 6 to 7 minutes. Add the garlic and cook until fragrant, 2 more minutes. Add the sausage and cook until brown, breaking it up with a wooden spoon. Pour in the wine and cook until reduced by half. Stir in the tomato sauce and herbs and bring to a simmer over medium-low heat. Season with salt and pepper, cover and reduce the heat to low. Simmer 15 minutes, stirring occasionally.

Meanwhile, bring a large pot of salted water to a boil. Add the lasagna noodles and cook as the label directs. Drain and toss with the remaining 1/2 tablespoon olive oil.

Mix the strained pumpkin puree with the egg in a bowl and season with salt and pepper. In a separate bowl, mix the ricotta, 1 cup mozzarella and the romano.

Build your lasagna in a 9-by-13-inch baking dish: Start with a layer of sauce, then top with a layer of noodles. Evenly spread half of the pumpkin filling, then half of the zucchini, over the noodles. Top with half of the cheese mixture and cover with some of the sauce. Repeat the layers, finishing with noodles and sauce; sprinkle with the remaining 1 cup mozzarella. Bake, uncovered, 35 to 40 minutes, or until bubbly. Let cool 15 minutes before slicing.
Apple "Pizza"
yield:
Makes 6 to 8 dessert servings
1 frozen puff pastry sheet (from a 17 1/4-oz package), thawed

2 tablespoons fine dry bread crumbs

1 1/2 tablespoons unsalted butter

1 1/2 lb Golden Delicious apples (3 medium), peeled, halved lengthwise, cored, and thinly sliced crosswise

1 cup grated sharp or extra-sharp white Cheddar (3 oz)
Special equipment: parchment paper
Preparation
Put oven rack in middle position and preheat oven to 400°F.
Roll out pastry sheet into a 15- by 12-inch rectangle on a lightly floured surface with a floured rolling pin. Transfer to a baking sheet lined with parchment paper, then prick pastry all over with a fork. Sprinkle bread crumbs over pastry.
Heat butter in a small saucepan over moderate heat, swirling pan, until golden brown, about 1 minute. Pour butter over apples in a bowl, then add sugar and salt and toss to coat. Spread apples evenly over pastry, leaving a 1-inch border on all sides. Fold in edges over apples, pressing down firmly on corners and sides. Bake until apples are tender, 35 to 40 minutes. Sprinkle cheese over apples and bake until cheese is golden and bubbling, 5 to 9 minutes more. Serve warm.
Read More
http://www.epicurious.com/recipes/food/views/Apple-Pizza-230478#ixzz1ZllxpYaB
AllRecipes.com does it again with these YUMMY summer recipes perfect for fruits and veggies that are in season right now in Jersey! Enjoy!


Original Recipe Yield
10 servings
I prefer to use cubed mozzarella, and not to heat the Bruscetta, but the bread alone...Either way is delish!
Original Recipe Yield
12 servings
Directions
Original Recipe Yield
1 9-inch round cake
Here are 3 recipes (c/o
allrecipes.com
) that are sure to beat the summer heat! Enjoy!
Original Recipe Yield
8 ice pops
Prep Time:

20 Min
Ready In:

4 Hrs 20 Min
Original Recipe Yield
8 servings
My mother sent this recipe as a great alternative to regular brownies. Seems easy enough. I would still add chocolate chips~ just sayin'.
(Healthier) BROWNIE MUFFINS
1 box
devil's food cake
mix
1 15 oz. can solid pack pumpkin
Preheat oven to 400 degrees.
Mix the two ingredients together. Don't add anything else that may be mentioned on the box.
This mixture will be VERY THICK.
Place the batter into
muffin tins
(or mini-muffin tins) lined with paper.
Bake at 400 degrees for 20 minutes.
Makes 12 regular or 36 mini muffins.
Quinoa~Polenta Pizza... Random, but Sooooo Gooooood!
This recipe might take some kid-convincing, but it is DELICIOUS!!!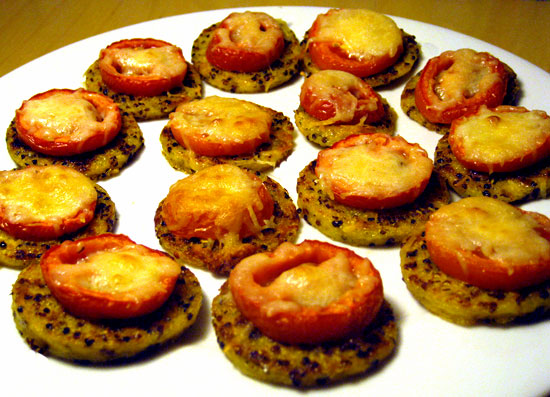 To see this simple recipe that can be served as an appetizer or main dish keep reading.
Recipe: Pizza Quinoa Polenta
1/2 cup shredded mozzarella
Pour the oil in a pan and heat on low.

Cut the polenta into 1/4 inch thick slices.

Place the polenta in the pan and cook each side so they're slightly golden brown.

Turn the oven on to 350° F.

Slice the tomatoes. Place the polenta on foil on a cookie sheet. Top each piece with a slice of tomato. Sprinkle with cheese and bake for 10 to 15 minutes or until the cheese is melted.
This Hot Spinach-Artichoke Dip (from

Food Network

) is so good, maybe you wanna double the recipe. Seriously.
Ingredients
1 (10-ounce) package frozen chopped spinach
2 (13 3/4-ounce) cans artichoke hearts
1/2 cup mayonnaise
1/2 cup sour cream
1 cup freshly grated Parmesan
1 cup grated pepper jack cheese
Directions
Preheat the oven to 350 degrees F. Grease a casserole dish with nonstick spray.
Heat the spinach in a microwave oven on high for 5 minutes and squeeze dry. Drain the artichoke hearts and coarsely cho
p in a food pr
ocessor.
Combine all the ingredients except the jack cheese in a large bowl. Stir well. Scrape into the p
repared casser
ole dish and sprinkle the jack cheese on top. Bake for 30 minutes. Transf
er to a chaf
ing dish and keep warm over a low flame. Serve with bagel chips.
Zip-lock bags are among my favorite kitchen tools, used most often for decorating cupcakes and piping things that might otherwise require a piping bag. Best of all – they're disposable (washing buttery, sticky goo out of an icing bag is among my least favorite kitchen jobs). Zip-lock bags are great for melting and drizzling chocolate, shaping marshmallows, and piping meringue into any shape you like – besides letters, numbers and shapes, you can do hearts for Valentine's Day. Meringues are an inexpensive treat to make, and easy to do in large quantities (6 egg whites and 1 1/2 cups of sugar will produce a ton of meringues). Bonus: they're nut, gluten and dairy-free, if you're looking for a treat to send to school and are concerned with allergies.
Kids will love helping with these – give them each their own bag and let them get creative with their meringues. The shapes will hold in the oven, and be firm enough to peel off once they're crisp and dry. For birthdays, pipe out numbers (and spike them with any color you like) or letters, or just for fun, let kids spell out their names or names of their friends – as a gift, or for no reason at all.
1 1/2 cups sugar
1 1/2 tsp. cornstarch
6 large egg whites
a few drops of red food coloring (optional)
1/2 tsp. vanilla

Preheat the oven to 250°F and line two large baking sheets with foil or parchment.

Stir together the sugar and cornstarch in a small dish or measuring cup. In a large, clean glass or stainless steel bowl, beat the egg whites with an electric mixer until soft peaks form. Gradually add the sugar a bit at a time, beating constantly until the mixture holds stiff, glossy peaks, like shaving cream. Beat in the food coloring and vanilla.

Spoon the meringue into a large, heavy-duty zip-lock freezer bag. Seal and snip off one corner. Pipe the mixture in any shapes you like – hearts, numbers, letters – onto the prepared sheets.

Bake one sheet at a time (or both in a convection oven), for 1 hour, until crisp and dry. Let the meringues cool completely, then peel them off the foil or parchment. Makes lots.
This recipe from
allrecipes.com
is a yummy, easy way to fill bellies at the Super Bowl party! Enjoy!
Prep Time:
30 Min
Ready In:
30 Min
Servings
(
Help
)
Original Recipe Yield
1 dip
BLT dip from
allrecipes.com
is an easy recipe that can be made low-cal by using the low fat/fat free versions of some ingredients. I used Turkey Bacon, too : )

Prep Time:
5 Min
Cook Time:
10 Min
Ready In:
25 Min
Servings
(
Help
)
Original Recipe Yield
3 cups dip
My 2 year old LOVES Yo Gabba Gabba and when her birthday came around, I looked everywhere for an easy cake, and found The Brobee Cake! Here's what we did:
We used yellow cake, and threw in some mini M&M's. I baked it in a lasagna sized pan, and cut off about 1/4 from the bottom to use for the arms. I was left with a square for the body.
To ice the cake, we used green food coloring mixed with plain white icing, and covered the two arms cut from the 1/4 cake I had put aside, as well as the square body cake.
Once the cakes were iced, I placed strips of paper evenly to create stripes. We sprinkled green-sugar sprinkles on the parts not covered with paper, and when we lifted the paper, we were left with green icing stripes, and green sprinkle stripes (this was A LOT of fun for my 4 year old to do!).
To make the cones on top of the head, I cut the bottoms off of some ice cream cups, and iced them. Once I had done this, my little one covered them in orange-sugar sprinkles.
To make the face, I filled a Ziploc bag with white icing, and drew Brobee's face. I used the same orange-sugar sprinkles to color the mouth. I then cut Chocolate Twizzlers to make the uni-brow, the centers of the eyes, and the smile!
This cake was so fun to make, and my four-year-old was so proud to be able to say she had made her sister's birthday cake! Here are the results...
This cake from
"Mommy in the Baking"
is AWESOME! She has some really cool stuff, and anyone who knows my 4 year old, knows we WILL be making this one soon...
1-3/4 cups all-purpose flour
2 teaspoons vanilla extract
Heat oven to 350°F. Grease and flour two 9-inch round baking pans.
Stir together sugar, flour, cocoa, baking powder, baking soda and salt in large bowl. Add eggs, milk, oil and vanilla; beat on medium speed of mixer 2 minutes. Stir in boiling water (batter will be thin). Pour batter into prepared pans.
Bake 30 to 35 minutes or until wooden pick inserted in center comes out clean. Cool 10 minutes; remove from pans to wire racks. Cool completely.
VARIATIONS:
ONE-PAN CAKE: Grease and flour 13x9x2-inch baking pan. Heat oven to 350° F. Pour batter into prepared pan. Bake 35 to 40 minutes. Cool completely. Frost.

THREE LAYER CAKE: Grease and flour three 8-inch round baking pans. Heat oven to 350°F. Pour batter into prepared pans. Bake 30 to 35 minutes. Cool 10 minutes; remove from pans to wire racks. Cool completely. Frost.

BUNDT CAKE: Grease and flour 12-cup Bundt pan. Heat oven to 350°F. Pour batter into prepared pan. Bake 50 to 55 minutes. Cool 15 minutes; remove from pan to wire rack. Cool completely. Frost.

CUPCAKES: Line muffin cups (2-1/2 inches in diameter) with paper bake cups. Heat oven to 350°F. Fill cups 2/3 full with batter. Bake 22 to 25 minutes. Cool completely. Frost. About 30 cupcakes.


CHOCOLATE FROSTING
1/2 cup (1 stick) butter or margarine
2/3 cup HERSHEY'S Cocoa
3 cups powdered sugar
1/3 cup milk
1 teaspoon vanilla extract

Melt butter. Stir in cocoa. Alternately add powdered sugar and milk, beating to spreading consistency. Add small amount additional milk, if needed. Stir in vanilla. About 2 cups frosting.
Kid-Friendly Shepherd's Pie
This YUMMY Recipe is a take on my Dad's Shepherd's Pie that we loved as kids... Plus some veggies!
1lb lean ground turkey
1 medium firm zucchini
1/2 medium onion (any kind)
Brummel and Brown (or something like it)
4 med-large baking potatoes
1/4c 1% milk
sea salt to taste/ground pepper
low fat shredded cheddar cheese
saute turkey in about 1tbsp of Brummel covered for about 5 min
peel and dice zucchini into the smallest pieces possible-add to turkey (cover)
dice onion as small as possible- add to turkey (cover)
let simmer for about 5 more min until mixture is well cooked and combined
add a little salt/pepper to mixture
peel and cut potatoes into about 1' cubes
put potatoes into a pot with water (to cover) and boil
once boiled, allow to simmer for about 10 min until soft
once soft, drain, and begin to mash
add a little brummel and salt, and continue to mash
add milk and mash until they're as smooth as you'd like (may want to use hand mixer/puree if your kids don't like lumps)
in a lasagne-sized pyrex dish, pour the turkey mixture, cover evenly with potatoes, and sprinkle enough cheese on top to cover
bake in 375 degree oven for 30 min or until cheese gets a little bubbly
Enjoy!!!!
If you're always looking for easy ways to sneak veggies into your kids' food, give this one a try... They'll never know!
Easy (Veggie) Cheddar Mashed Potatoes
Approximately 6 to 7 medium size russet potatoes (cut into quarters)
1/4 bag of whole (not baby) carrots (peeled and cut into about 2" long pieces)
1 and 1/4 cup milk
4 tbsp of brummel and brown (or something similar)
2 tablespoons light sour cream
1/2 cup grated cheddar cheese (orange)
Salt and pepper to taste
Place potatoes and enough water to cover in large pot. Do the same with carrots, in a seperate pot. Bring both to a boil.
Reduce heat to medium and cook for approximately 15 to 20 minutes or until carrots/potatoes are tender.
Drain potatoes well. Place potatoes back in pot and add 1/2 cup milk, brummel, salt and pepper and stir until mixed. Then add cheese and sour cream and stir well. Mash using hand-held masher until smooth. You can also use a hand-held electric mixer for creamier potatoes.
Puree carrots-using the remaining milk for moisture- until smooth
Mix carrots with potato mixture (since they're cheddar mashed, they'll think the orange is the cheese, get it?)
Delicious White Baked Ziti
I made this for a family party, and I omitted the sausage (for my own sake). I also threw in some ricotta cheese with the cottage cheese and doubled the recipe. It wound up making about 2 lasagna pans-worth of food. It was a lot, but the leftovers were yummy : )
BAKED ZITI, SAUSAGE IN WHITE CHEESE
SAUCE

1 lb. pkg. ziti macaroni
4 tbsp. salad oil
1 lb. sweet or hot Italian sausage

1/2 c. butter
1/2 c. flour
1 tsp. salt
1 tsp. white pepper
4 c. milk
1/2 c. grated Parmesan cheese

1 1/2 lbs. cottage cheese
1/2 c. grated Parmesan cheese
2 eggs
2 tbsp. basil
Salt and pepper
1/2 lb. Mozzarella cheese, grated
Paprika

Cook ziti as directed and drain. In hot oil, saute sausage until lightly browned. Remove from pan and then slice (1/2 inch pieces). To make sauce, melt butter in medium saucepan, remove from heat. Stir in flour, salt and pepper until smooth. Gradually stir in milk. Bring to boiling, stirring. Reduce heat; simmer 1 minute. Remove from heat. Stir in 1/2 cup Parmesan cheese. In bowl, combine ziti and sauce.To make cheese layer; in medium bowl, combine cottage cheese, Parmesan, eggs, basil, salt and pepper; mix well.

In bottom of 9 x 13 inch baking dish, spoon half the ziti sauce mixture. Layer with cheese mixture. Spoon on remaining ziti sauce mixture. Arrange sliced sausage on top. Sprinkle with grated Mozzarella and paprika. Bake uncovered 35 to 40 minutes or until hot and bubbly. Makes 10 servings.