I know it's blasphemy, but I am not a fan of Irish soda bread.... I always have some left over, as a result. I found this great recipe c/o
Hoosier Homemade
, and while I might take out the raisins, it looks delicious! It may even redeem Soda Bread for me..... Maybe.
Irish Soda Bread Pudding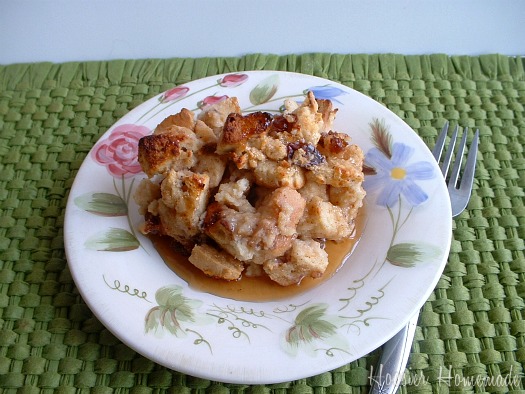 Bread Pudding with Irish Soda Bread Recipe:

4 large eggs

1/3 cup brown sugar, packed

1/2 teaspoon cinnamon

1/8 teaspoon nutmeg

1/8 teaspoon salt

1/2 teaspoon vanilla

3 cups milk

6 cups cubed Irish Soda Bread

1 cup raisins

1/2 cup water

2 tablespoons orange juice

1/4 teaspoon nutmeg

1/4 teaspoon cinnamon

1/8 teaspoon salt

Make the jam first so it has time to cook and cool. Combine all ingredients in a saucepan, bring to boil, then reduce to a simmer for about 10 minutes, stirring occasionally. The raisins should be plumped and soft, with a little liquid. Add a little more liquid to the mixture if you need to. Carefully pour raisins into a food processor and puree until thick but spreadable. Spoon into bowl and let cool.

In a bowl, whisk together eggs, brown sugar, vanilla, cinnamon, nutmeg and salt. Add milk and whisk until sugar is dissolved and all ingredients are combined. Cut the bread into cubes and place in a large bowl. Add the egg mixture, push bread down slightly making sure the liquid is covering the bread. Set aside and let the bread soak up the liquid, about 30 – 40 minutes.

Preheat oven to 350 degrees. Coat a square baking dish with non-stick cooking spray.

Spread half of the bread cubes into the baking dish. Spread raisin jam over the bread, leaving about 1/4 inch border around the sides. Top with remaining bread cubes. If there is any liquid left, pour it over the pudding and let it soak for about 10 minutes.

Bake for about 50 – 60 minutes, or until a knife inserted in the middle comes out clean.